Posted: Tuesday 1 March
Stage Whispers - Review
Watching Nancye Hayes and Reg Livermore on stage is like having an appointment with royalty, show business royalty in this case. Combined they have more than a century of theatrical experience.
But at a time when many start putting their feet up, these doyens are hoofing it across almost every nook and cranny of Australia with a crackerjack production.
Like a beautiful box of chocolates, the production is beautifully wrapped, both in set and costumes, with tasty morsels sweet and sour.
[ READ FULL REVIEW ]
Posted: Friday 25 February
The Australian, John McCallum
"Turns is a vehicle for two great stars of the Australian stage, Reg Livermore and Nancye Hayes, and a tribute to the musical, pantomime and comic theatre they have worked in for decades. It has the dark and tender undercurrent familiar to those who have seen Livermore's solo shows…..wordplay, imaginative excess and sudden moments of poignancy…..singing, dancing, vaudeville routines and splendid comic monologue…"
Posted: Friday 25 February
Sydney Morning Herald - Review
NANCYE HAYES and REG LIVERMORE combine their talents and their knowledge of Australian theatre history in this genial yet peculiar comedy.
Turns opens with a musty music hall routine featuring Miss Marjory Joy and her sailor-suited son. Song and dance, pratfalls, puns and crosstalk, this is the stuff of popular entertainment circa 1910.
A revolve of the set reveals this is a music hall of the mind, however. We're actually in the lower north shore maisonette of former chorus girl Marjory Montcrieffe, now in her 90s, plainly off her rocker and in the care of her depressed son, Alistair. He has given up almost everything to fulfil his filial duty. She suspects he is trying to poison her. No matter, the show must go on.
[ READ FULL REVIEW ]
Posted: Wednesday 23 February
IT'S A long time since Reg Livermore put words in somebody else's mouth, but who better to feed than friend Nancye Hayes? - Daily Telegraph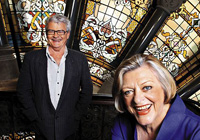 The pair first worked together back in the late 1960s on The Mavis Bramston Show, where Livermore would turn his hand to occasional sketch writing.
And while Livermore and Hayes often shared a stage over the next few decades, Livermore only penned words for himself. Until the two old friends decided to put on their own show, that is.
"Apart from all those television sketches back in the 1960s, this is the first time I've written for somebody else," Livermore says. "I've always written just for myself because it's always been monologues, me chatting to the audience, so to hand-craft a role for Nancye that she will find challenging but good fun has been great.
[ READ FULL STORY ]
Posted: Thursday 10 February
Central Western Daily - Actors take their turn on stage
IN a rare event for Orange, the Orange Civic Theatre will host the world premiere of Turns, starring well-known performers Reg Livermore and Nancye Hayes.
The theatre is a familiar space for both performers, who chose Orange for final rehearsals and finetuning of the show, which will tour the country after opening on Friday night.
"Orange chose us, they contacted us and offered us the theatre prior to our opening, which is just wonderful," said Mr Livermore, who penned the story.
Posted: Thursday 10 February
Prime TV Orange - Livermore and Hayes perpare for Western tour
Orange will host the world premiere of a new musical, written by one of the legends of the stage. Reg Livermore and Nancye Hayes have teamed up for a pantomime with a twist. Kristy Wettenhall caught up with them.
[ WATCH THE VIDEO ]
Posted: Monday 29 November
NANCYE & REG TALK TURNS

This is the first of a series of conversations with the stars of TURNS, intimate chats about its history and development and what the audiences might expect.
Posted: Friday 22 October
CANBERRA THEATRE ANNOUNCES TURNS
Canberra Theatre has announced TURNS in their 2011 season with this terrific preview Video. Play the video to see what Reg has to say about TURNS.
For more Canberra information go to canberraticketing.com.au
Posted: Monday August 23
TURNS TO TOUR AUSTRALIA IN 2011
Two icons of Australian theatre, Nancye Hayes and Reg Livermore, take to the stage in the world premiere of TURNS - a reflection on identity, family, show business . . . and completely losing your marbles! TURNS will open at the Seymour Theatre Centre on Tuesday 22 February, prior to a national tour.
TURNS brings together a kaleidoscope of theatrical styles to create a richly entertaining, whimsical, very funny and ultimately moving theatrical event. Don't miss it.