REG MEMOIR 'STAGES' HAS HIT THE STANDS!
[ 1 November, 2018 ]
ACT TWO.
The second installment of my life in print, is OUT NOW!
Following the release of my first book Chapters and Chances in 2003, I soon after started to fill in some of the gaps left open by writing a second version. Now 14 years later, Hardie Grant Books have released it, a memoir entitled Stages. This book fills out the story a little more, looking at the stages I have played, and peeking into the various stages of my life.
Stages is available now in person or online all good book stores.
PURCHASE BOOK HERE
AFTERNOON TEA CONVERSTAION WITH JAMES VALENTINE SATURDAY 3 NOVEMBER 2.30PM
[ 1 November, 2018 ]
Stars on Stage: A Conversation with Reg Livermore
Reg Livermore launches his new book 'Stages: A Memoir' at a live in-conversation event at North Sydney's Independent Theatre, one of the key locations Reg began his career over 60 years ago. Hosted by ABC Radio's, James Valentine. Reg Livermore is about to 'return home' to talk about his new book and life. Reg is just as excited about returning to the Independent as he is about talking about his new book. "It's so lovely to be having this event at the Independent as so much started there for me," Reg says of the place where as a schoolboy he began theatre training. The Principal Sponsor of 'Stars on Stage' is Marriott Lane Real Estate.
Proceedings begin with Afternoon Tea at 2.30pm on Saturday 3rd November. The conversation between Reg and James Valentine will be followed by a book signing at 5.15pm.
REG'S WIDOW UNPLUGGED HEADS INTO REHEARSALS!
[ 28 June, 2018 ]
The time has come get this show on the road!
Rehearsals start Monday for my new one man play, The Widow Unplugged at The Ensemble Theatre in Sydney. I have been tinkering and tailoring this piece for far too long, so now is the time to learn, develop and bring this creature to life.
It is a process that scares me to death, and hope to come out the other end with something that you will all enjoy, and that I will enjoy performing for you. If you have the courage, come along to The Widow Unplugged or An Actor Deploys at The Ensemble Theatre for 5 weeks from July 26.
IN LATE MARCH, I AM MAKING MY NZ OPERA DEBUT IN LEONARD BERNSTEIN'S CANDIDE
[ 27 February, 2018 ]
Candide will be a highlight of the Auckland Festival and a very exciting opportunity for me.
I have been a fan of this show for years, it is truly fabulous and the roles I'm playing, Voltaire/Dr Pangloss are perfect for me. We are giving three Concert Performances at Auckland's grand old Town Hall and can guarentee an unforgettable night.
[ FIND OUT MORE ]
THE WIDOW UNPLUGGED or AN ACTOR DEPLOYS
A NEW COMEDY BY REG LIVERMORE
[ 10 August, 2017 ]
4 years in the making! At last this entertainment is ready; I am thrilled to announce my new one-man play The Widow Unplugged will premiere at Ensemble Theatre, Sydney in 2018
What's it about? Well, you're forgiven if the name of actor, comedian and raconteur Arthur Kwick doesn't exactly ring any bells. Despite an unexpectedly notable performance at the Tivoli Theatre in 1969, his career ever since has seen him take any role that has come his way…
…even if that's meant hosting off-the-wall stag nights or working as an all-weather clown at children's parties. Now he has another job, a job that'll test his mettle, question his core beliefs and could well be the most challenging of his life.
I look forward to returning to the Ensemble stage for its 60th year anniversary. Ensemble subscriptions now open, single ticket purchases availble soon.
MY FAIR LADY RETURNS TO SYDNEY OPENING AT THE CAPITOL THEATRE IN AUGUST
[ 9 August, 2017 ]
After three magnificent runs in Sydney, Brisbane and Melbourne, My Fair Lady makes its return to Sydney for our farewell season.
This has been one fabulous journey, and as we head back to Sydney for the My Fair Lady return season at the Capitol Theatre sadly it will soon come to an end.
This show has been a huge joy of my life, I have made many wonderful new friends I will be sad to bid farewell; it is such a beautiful show, this wonderful production directed by Julie Andrews is not to be missed,.. so don't.
Book Now. Only two months left, before we say goodbye to the 60th Anniversary season of My Fair Lady. DON'T MISS IT!
MY FAIR LADY ARRIVES AT MELBOURNE'S GLORIOUS REGENT THEATRE
[ 15 May, 2017 ]
This year sees us return to the My Fair Lady stage after it's mega success at the Sydney Opera House in 2016.
We were sad to see Alex Jennings leave us after the Sydney season, but we are delighted to have welcomed the wonderful Charlie Edwards in the role of Henry Higgins for its return.
After a fabulous 6 weeks at QPAC in Brisbane, we are now very much at home in Melbourne, where My Fair Lady Australia, first premiered in 1958.
We are hugely excited to be performing this wonderful classic in Melbourne, and at the beautiful Regent Theatre, which seems to fit like a hand and glove. Please don't miss seeing My Fair Lady, this production really is a treasure.
MY FAIR LADY BREAKS ALL OPERA HOUSE RECORDS
[ 28th October, 2016 ]
As we approach our final week of My Fair Lady at the Sydney Opera House it is satisfying to look back at this amazing four month journey, and this astonishing 60th Anniversary production.
To have worked so closely with Julie Andrews was a dream, we all ended up loving her and calling her Mum. When she left after opening it was a sad day for us all, but she says she will be back! We hope so! The show opened at the Sydney Opera House to a brilliant fanfare; equally thrilling were the wonderful reviews all round.
This has been a dream role for me and everyone seems to be loving my Doolittle, as much as I am playing him. I am now looking forward to a break at home for a few months, before heading to Brisbane and then Melbourne. As we head towards our final show in Sydney on November 5, we can celebrate the fact that My Fair Lady has broken all box office records at the Sydney Opera House, selling more tickets than any other attraction in its history. Who could ask for more.
A GREAT JOURNEY, THE REHEARSALS FOR MY FAIR LADY!
[ 22nd August, 2016 ]
We have been rehearsing My Fair Lady over the past month at Opera Australia's headquarters in Sydney with Dame Julie Andrews at the helm. This has been the most wonderful experience for everyone involved in this classic ground-breaking show.
As for Julie herself, she's a remarkable woman with so much energy and knowledge, you can only follow her inspiring lead with gusto. She certainly is a hands-on director, across every aspect of My Fair Lady the spectacle with which her name will forever be synonymous .
From first day of rehearsals until our final sing-through in the rehearsal room with the orchestra, for each one of us taking part this has been an exciting and memorable event, as this amazing show is set to be with it's imminent return to the Australian stages. On Sunday August 21st a reception was held at Government House Sydney to honour Dame Julie, John Frost and Opera Australia for this their 60th Anniversary production of the ever popular world-beater
Be sure to get in quick in Sydney, it's only here for two months, and will no doubt sell out. Brisbane and Melbourne seasons have just been announced.
REG TO PLAY DOOLITTLE IN MY FAIR LADY DIRECTED BY DAME JULIE ANDREWS
[ 12 May, 2016 ]
How lucky am I to be cast by the one and only Julie Andrews in this wonderful production of My Fair Lady to open in Sydney in August.
It's not often you get the chance to re-visit a show you've previously worked on and adored, but this year I'm lucky enough to do just that. Having played Henry Higgings in Opera Australia's 2008 production, to revisit My Fair Lady in the role of Alfred P. Doolittle directed by Dame Julie herself, is certainly a carreer highlight.
This production is co-produced by Opera Australia and The Gordon Frost Organisation, it will star English Actor Alex Jennings and our own Anna O'Bryne, along with a wonderful Australian cast. I hope you join me on this fabulous new journey of My Fair Lady.
1974 ROCKY HORROR SHOW CAST REUNION
[ 21 May, 2015 ]
A walk in high heels down memory lane.
Coinciding with the opening of the new Rocky Horror Show with Craig McLachlan in Sydney, I was asked to be part of a reunion of the original Australian cast from 1974. It was certainly a trip down memory lane with fellow cast members Kate Fitzpatrick, Sal Sharah, Maureen Elkner, Graham Matters, David Cameron, John Paramor and Jane Harders. We met at The Star for lunch and were then transported to the ABC rehearsal room to suprise the current Rocky cast. A wonderful day with a lot of laughs which received much media attention.
* Watch the ABC 7.30 Program
* Read the Sydney Morning Herald Spectrum cover story
REG HONOURED WITH A LIFETIME ACHIEVEMENT AWARD
[ 20 January, 2015 ]
Wow. What a year it's been: The Helpmann Award and now the Sydney Theatre Lifetime Achievement Award!
It really is a fabulous thing to happen for me; the theatre involves lots of hard work, it isn't always about the bouquets, there's as many brickbats along the way. So it's great to know I have been celebrated for my work as a whole, that's what really matters.
It's now been sixty years of striving and achievement, a grand pat on the back like this is more than I could ever have expected. As Wicked now draws to an end, I don't know what's ahead, but I reckon I've still got plenty to share. Stay tuned!
Read Acceptance Speech - pdf
WICKED PLAYING ITS LAST WEEKS AT SYDNEYS CAPITOL
[ 4 January, 2014 ]
I have had the most amazing time in this wonderful musical, but soon it will be time to say goodbye.
Wicked is currently casting its spell over Sydney after the highly successful Melbourne season, but is now in its final weeks before setting off around the country. For me, it has been a wonderful journey in a stunning show. When I thought I'd had my last hurrah suddenly this gift of a role came my way. I am so glad to have had the opportunity to play The Wizard but Sydney will be my last port of call, it will be time to hang up my Wizard's hat on January 30.
If you haven't done so yet come and see this show. Get down to the Capitol Theatre so as not to miss this wonderful cast of Wicked, every performer at the height of their game which makes this a very very special event.
Your last chance to see Wicked in Sydney, and me as The Wizard - MUST CLOSE IN SYDNEY JANUARY 30
HELPMANN AWARD WIN FOR REG
[ 19 August, 2014 ]
I am Thrillifyed to have received this Helpmann!
I have had various Helpmann nominations in recent years but am thrilled that my first Helpmann win, is for this special role as The Wizard in WICKED. I have loved reading all your messages, which are very much appreciated.
See you at The Regent in Melbourne and Sydney's Capitol from September!
MELBOURNE TURNS GREEN FOR THE OPENING OF WICKED
[ 6 March, 2014 ]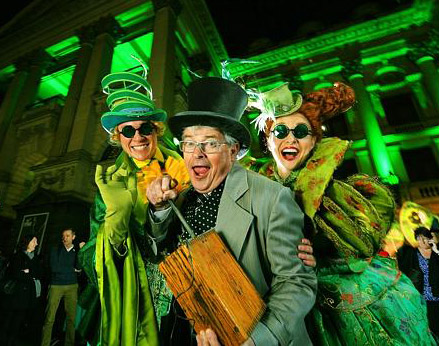 As The Wizard in Wicked, I am thrilled to light up Melbourne.
Wicked is about to open in Melbourne, officially on Saturday 10 May. I am so very excited (at the same time a little nervous) to bring you 'my' Wizard here in Oz. It is the most wonderful show, and I am absolutely thrilled to be involved in the biggest show of the decade.
Look forward to seeing you at The Regent Theatre!
REG TO JOIN THE CAST OF WICKED
[ 26 February, 2014 ]
I am thrilled to announce I am to play the wonderfully Wicked, Wizard of Oz.
I'm excited to finally be able to spill the beans about my new role as The Wizard in the Broadway musical Wicked opening on May 10 in Melbourne, closely followed by a season in Sydney.
I have been approached about Wicked on and off over the years, but this time all the stars aligned and here we are, off down the yellow brick road to Melbourne.
Look forward to seeing you somewhere in Oz sometime soon.
REG APPEARS AT THE 2014 MUSICAL THEATRE WORKSHOP
[ 20 January, 2014 ]
Thank you for coming out to see us in Brisbane
I had the honour of appearing at the 2014 Musical Theatre Workshop in Brisbane on January 16 with fellow actor and friend Nancye Hayes. We were crowned that day, 'The King and Queen of Musical Theatre' which we were both quite chuffed about.
Thank you to all who attended for making our time such a memorable one.
Photos by Nick Morrissey
REG'S FIRST ART SHOWING IN ALMOST 30 YEARS
[ 1 November, 2013 ]
Exhibition for a limited time only in Bowral
Quite a few months ago, an artist friend Del Cooley mentioned she was having an exhibition of her own works at the Bowral District Arts Society, and asked if I would consider joining her in the exhibition. It has been many years since I have put brush to canvas, so my instant reaction was could I do it again.
Anyway, I decided to take the plunge and am pleased to introduce you to
Del Cooley, Beauty and Loss showing with selected works of
Reg Livermore. This exhibition is for a limited time only at The Bowral District Art Society from 7 - 18 November.
Feel free to pop along and see what is on offer if you are in town.
REG's GARDEN WALK
[ 25 July, 2013 ]
A unique and personal garden consultancy
After many requests over the years to share my knowledge of gardens for a limited time in the Southern Highlands, I am organising walks with you around your garden to chat about ideas you may have and give his personal view on how you might improve or consolidate your landscaping visions and dreams.
A REG-FEST AT THE ADELAIDE CABARET FESTIVAL
[ 24 June, 2013 ]
Recently I had several wonderful honours bestowed on me by The Adelaide Cabaret Festival: I became the first inductee of the 'Cabaret Icon' award, witnessed a tribute show called 'Reg' performed by Tommy Bradson, and was the subject of an Exhibition marking my career, all of these events coinciding with the Adelaide Festival Centre's 40th anniversary.
Kate Ceberano the artistic director of the cabaret Festival was a wonderful champion in making all of this happen. I had the time of my life there in Adelaide, for me it was truly a 'Reg-fest' producing the many treasured memories I will carry with me forever.
Tommy's show 'Reg' was wonderful, a cogent re-imagining of a time and place long gone and for me an opportunity to finally appreciate the character and durability of my work. When the idea was presented to me I was wary, could not imagine how it might possibly play out, but Tommy being the performer he is made it work, truly made it his own, at the same time honouring me and my legacy; for this I am truly grateful.
'REG' TRIBUTE SHOW TO OPEN IN JUNE
[ 9th April, 2013 ]
The Adelaide Cabaret Festival is paying tribute to Reg Livermore with a retrospective on his illustrious career: a new show Tommy Bradson - REG. From The Betty Blokk Buster Follies to Firing Squad Tommy will revisit all your favourite feared and revered characters with musical numbers from Reg's acclaimed catalogue of solo shows.
REG is performed by Fringe Festival award winner Tommy Bradson who took last year's Cabaret Festival by storm with his one-man show The Men My Mother Loved.
When - 7 June, 6pm and 8 June, 2.30pm & 6.30pm
Where - Space Theatre, Adelaide Festival Center
[ BOOK NOW ONLINE ]


SOUVENIRS FROM THE STAGE - AN EXHIBITION
[ 8th April, 2013 ]
Reg Livermore's journey in the theatre has been phenomenal, and his achievements unique.
From performing in the musicals Hair, Jesus Christ Superstar and Rocky Horror Show to the creation of his own one-man shows of Wonder Woman, Betty Blokk Buster Follies and Sacred Cow, this exhibition features Reg's souvenirs from a life in the theatre as performer, writer, director and designer.
Presented in conjunction with the Melbourne Arts Centre's Performing Arts Collection and Reg Livermore.
The Performing Arts Collection (founded in 1979) is home to many prestigious and unique collections that embody over 200 years of South Australian performing arts history. It represents the contributions South Australians have made to the performing arts industry, both on stage and behind-the-scenes.
When - 5 June - 24 August 2013
Where - Festival Theatre Foyer Showcases
Times - 9am - 6pm Mon to Fri and during performance times
THE ROCKY HORROR SHOW RE-RELEASED ON CD
[ 6th April, 2013 ]
The original Australian cast recording of The Rocky Horror Show starring Reg Livermore, has been re-released on CD through Possum Records.
Now available for purchase.
REG MEETS BROADWAY ROYALTY
[ 12 March, 2013 ]
I was so incredibly lucky today to meet the wonderful cast of Driving Miss Daisy, the wonderful Angela Lansbury who I have loved forever and is delightful, the incomparable James Earl Jones, and wonderful Broadway performer Boyd Gaines. A superb cast in a gorgeous play. A must see! So glad I did.
REG HELPS VICTORIA TAKE A BOW
[ 13 August, 2012 ]
Some famous Australian Artists gave Arts Centre Melbourne a shout out to celebrate the opening of the New Hamer Hall recently. See Arts Centre Melbourne CEO Judith Isherwood, introduce Rolf Harris, Paul Kelly, Hugh Jackman, Kylie Minogue, Reg Livermore and Nick Cave.
HURRY LAST WEEKS!! - REG LIVERMORE TAKE A BOW
[ 1 February, 2012 ]
Just a reminder: if you're intending to see my retrospective exhibition at the Arts Centre in Melbourne there's not much time left to do so.
The show closes on February 26, and if all the positive feedback I've been receiving is any indication I think you're guaranteed a great couple of hours. Yes, a couple of hours at least!! Not only are there costumes, photographs, posters, scripts, letters and lots of memorabilia, there's loads of footage from the one man shows I did; for those who saw them it's a wonderful trip down memory lane, for those who didn't it's probably your last chance to experience a pretty special time in the Australian theatre.
On Wednesday February 22nd I will be giving an exhibition Floor Talk at the Arts Centre gallery commencing at 12.30. Come along if you want to say hello, or even if you're just interested in hearing a few facts from the horse's mouth!
And if you have things to sign bring them along.
A big thanks to those who've seen the show so far, and for all your wonderful comments. I am extremely touched.
Much love
Reg
Reg Livermore – Take a Bow
5 November 2011 – 26 February 2012
A FREE exhibition
The Arts Centre Melbourne, Gallery 1
REG LIVERMORE TAKE A BOW - AN EXHIBITION
[ 20 October, 2011 ]
Howdy friends, The Arts Centre Melbourne has afforded me a very great honour: the Centre's mounting a large comprehensive exhibition on my long and fairly varied career, the material included covers a period in excess of 60 years would you believe – (I was not a slow starter). it's my Hall of Fame moment big-time!
On view will be a collection of the costumes worn in my one man performances, great show photographs from my archives, show posters, programs, working notes and early scripts, set designs, interesting memorabilia from my private collection.
There will be recorded material available, performance excerpts and interesting interview items, in short a fascinating look at my jam-packed history. Hang onto your hats, entry is free and there are prizes to be won! I've been gathering the material since I started way back when, it will be quite a turn-on to see it all out in the open at last.
How does it feel to be a museum piece you're probably wondering? It feels great. I'm on show from early November until late February, try to get there. It would make me very happy.
Reg Livermore – Take a Bow
5 November 2011 – 26 February 2012
A FREE exhibition
The Arts Centre Melbourne, Gallery 1
BETTY HITS THE STANDS
[ 18 October, 2011 ]
The long awaited release on DVD of Reg Livermore's Betty Blokk Buster Follies!
In April 1975 Reg Livermore stormed the stage of Sydney's Balmain Bijou Theatre with his groundbreaking show Betty Blokk Buster Follies. A tour de force, an irrestible blend of music and comedy, the show caught the imagination of audiences all round Australia filling theatres wherever it played. This record of the show was released in cinemas during 1976 and is at last available on CD and DVD!
Songs include Family Of Man, Hello In There, Captain Jack, What Makes A Man A Man, The Entertainer and Celluloid Heroes, with well known characters, Betty Blokk Buster, Tara the Incredible, The Old Man and Vasaline Amyl Nitrate.
BOTH CD AND DVD AVAILABLE NOW FOR PURHCASE AT POSSUM RECORDS.
WE TOOK TURNS AROUND THE COUNTRY
[ 22 September, 2011 ]
The National tour of my show Turns came an end in Bunbury W.A. towards the end of August this year, 2011. It had been quite a haul: over thirty towns and cities within a fairly hectic and quite demanding six months' time frame. Nancye Hayes and I had expressed a real interest in working on a project together and Turns is the show I wrote with the two of us in mind. Tailor made you might say. It wasn't the all-singing all-dancing show our fans might have wished for, indeed expected, but it was a surprising adventure for those who saw us performing it. "Expect the unexpected" was my catch-cry.
I have always tried to reflect the times we're living in, and to examine some of the important issues that are likely to beset us or have already taken hold. Nancye and I got a fairly arduous workout, we did sing and dance but there was much more to the show than just that. If you didn't see it you surely missed something. It was a privilege to take our show to people in out of the way areas that may not have otherwise had the opportunity to see us perform: a couple of"legends" at the top of their form.
We found that all over Australia there are amazing theatres serving the communities for which they've been purpose built. Getting people into them sometimes proved difficult but I suggest a more usefully focussed effort by the managements of those public places to achieve such an outcome might better serve them. Regardless the pair of us remember fondly and very much appreciate what were the undisputed high points of our most important odyssey.
For more information on Turns visit reglivermore.com/turns.
MY 'FAIR LADY' EXPERIENCE
[ 1st July, 2008 ]
I'm having a wonderful time this year, appearing as Professor Henry Higgins in Stuart Maunder's production of My Fair Lady for Opera Australia. And what a grand old girl she is: if you'll pardon the contradiction in terms, more than fifty years young. Audiences everywhere have been enthusiastic, sell--out shows in Melbourne and Sydney, with Canberra and Brisbane to follow. It's returning to Sydney later in the year but without yours truly.
"They don't write them like this any more". My Fair Lady without question is a Broadway Classic, and I'm revelling in this golden opportunity; I think I can safely say Henry is right up my street. For an actor it's a rare treat to have such wonderful things to say, and for the audience such great stuff to listen to: words and music.
Fortunately the reviews have been just what the doctor ordered and I've managed to land yet another feather in my cap. Over the years the theatre has handed me a fistful of marvellous roles, Henry I have to say is up there with the best of them.
My colleagues are all wonderful, Taryn Fiebig an absolutely gorgeous Eliza, with Rhys McConnaghie. Robert Grubb, John Wood, Matthew Robinson, Adele Johnson, and the entire ensemble making up what I surely consider the dream team. Incidentally the great Miss Nancye Hayes playing Higgins' worldly wise mother is winning hearts in every town.
REG NAMED AN ENTERTAINER OF THE CENTURY
[ April 2006 ]
Saturday 29th April, 2006 Waterfront City Melbourne: the Variety Walk of Fame was inaugurated. Among the 100 Australian Entertainers of the Century named was Reg. His star appears on the walk at Docklands.
At the celebratory dinner that night a 9 metre long painting by Jamie Cooper was unveiled depicting all of those honoured. Reg was particularly pleased to have been placed beside Kylie Minogue, as she no doubt would have been had she known about it.
MOR AWARD FOR REG IN THE ROLE OF MAX BIALYSTOCK!
[ March 2006 ]
Reg has been acknowledged for his performance as Max Bialystock in 'The Producers', winning a Mo Award. Tony Sheldon and Chloe Dallimore also recieved awards for their roles in the show. Awards were presented at the Sydney Entertainment Centre on April 29.